Bitcoin price showed an amazing recovery yesterday trading day. From lows just below $ 31,000, BTC/USD quickly pumped up to a peak of $ 38,400 at the time of publication. A huge increase of more than 20 percent within one day!
Advertising

But does this mean for investors that the bulls are now dictating prices again and the worst is already over? Not necessarily. A very well-known chart analysis model shows that the Bitcoin price could even briefly fall below $ 30,000 before it comes to a real turnaround.
Wyckoff model: Is another sharp correction imminent?
If you want to buy Bitcoin, you should definitely have the following scenario on your screen, even if the BTC/USD price currently looks so pleasing.
We are talking about a course model by Richard D. Wyckoff. The writer and stock market investor lived between 1873 and 1934 and has developed chart models that are still highly regarded by analysts today. The journal Technical Analysis of Stocks and Commodities even posthumously recognized Wyckoff as the titan of technical analysis.
One of his well-known models is the "Accumulation Schematic #1", also known as the reversal model, since it describes a trend reversal of prices. According to the scheme, in the first step there is a sharp correction of the markets.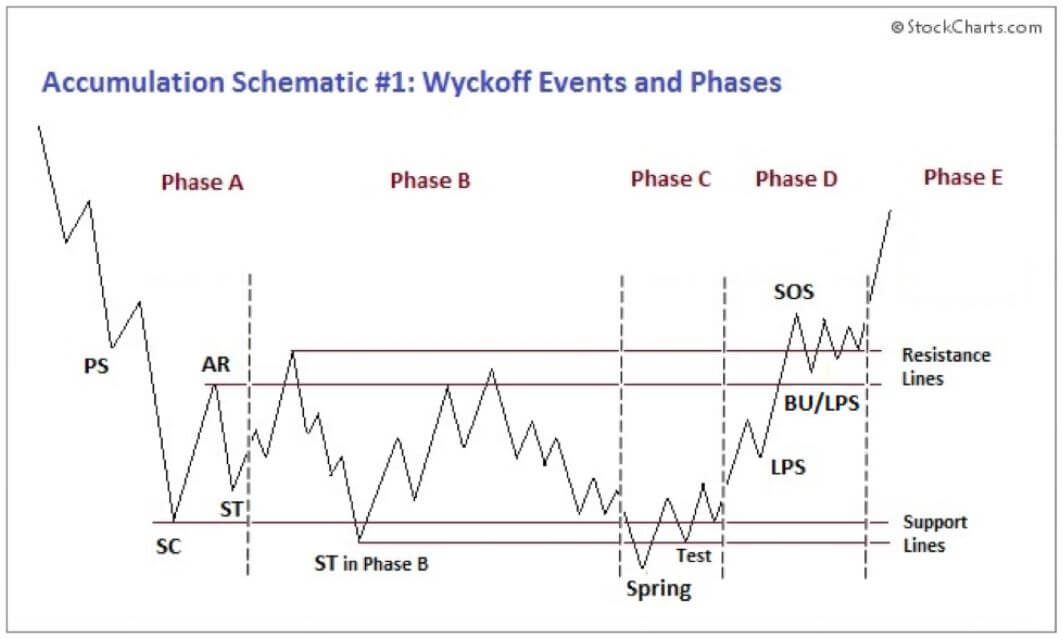 Bitcoin price behaves exactly as predicted
This" Phase A " was initiated by the Bitcoin price on April 14, when BTC / USD sharply revised down from a new all-time high at $ 65,000. At the top, the Bitcoin price slipped to $ 30,000, found strong support there and quickly recovered to more than $ 42,000. This is exactly the course of prices described in the Wyckoff model in phase A, which is characterized by enormous volatility.
Phase B of the model is characterized by a sideways movement of prices, in which prices move several times back and forth between the upper resistance (in the price range of $ 42,000) and the support zone ($30,000) without a breakout up or down.
Also this phase B has exactly met the Bitcoin price and has been moving back and forth between resistance and support for several weeks.
This is followed by the exciting phase C in which the Bitcoin price could be right now. This phase is characterized by a short correction below the support zone (called "spring") before a trend reversal is started.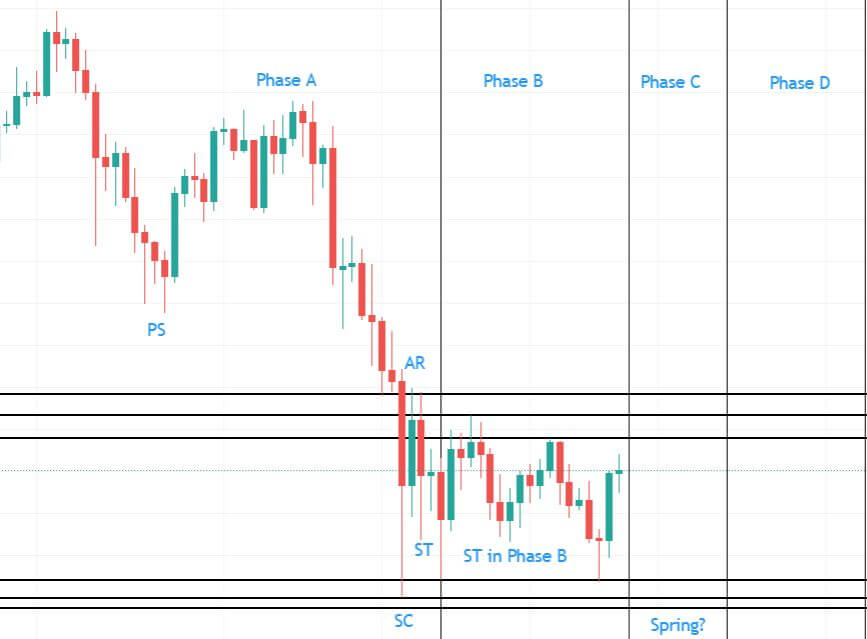 Is the YouTuber MMCrypto right or wrong?
According to the Wyckoff method, the Bitcoin price would therefore have to briefly fall below $ 30,000 before a new bull market can be ushered in. But this has not happened so far. Although the Bitcoin price briefly fell below $ 31,000 yesterday, but has thus not yet undercut the previous low at $ 30,000 from Phase A.
Nevertheless, some analysts and well-known crypto YouTubers already interpret yesterday's low of around $ 31,000 as a "spring" and assume that the Bitcoin price has already found its low point.
Here is the YouTuber MMCrypto, who has more than 400,000 subscribers on his channel, making him one of the largest crypto influencers in the world. He announces in his latest video that the Wyckoff model he used has already been fulfilled and that he predicted it in the same way.
The next few days should show whether he is right. Because according to Wyckoff, the price would actually have to fall below $ 30,000 for a short time to meet the reversal pattern.
More signs of possible fall below $ 30,000
There is further evidence that the $ 30,000 could be breached briefly and thinly. If you look at the logarithmic chart of the Brave New Coin Liquid Index, it shows that BTC / USD has been moving in a so-called falling path for weeks.
This is a bullish pattern that usually breaks upwards. Bitcoin price may have broken the pattern's resistance line yesterday, but it could also be a fakeout if price falls below $ 36,000 again. Should this happen, Bitcoin could test the support line again, which would be just below $ 30,000 next Sunday.
AS I PREDICTED FOR # BITCOIN! 🤩 pic.twitter.com/aiGmsqGCDe

– MMCrypto (@MMCrypto) June 9, 2021
And in the chart analysis, a third possible indication of a correction below $ 30,000 can be found. Thus, there is a support and resistance line, which the Bitcoin price has already tested several times since the end of March 2019. In December 2020, Bitcoin was last able to cross this line in the price range of $ 24,000. What followed was an explosive rise that took the price up to $ 65,000.
It is precisely this important line that price has now come extremely close again. It is also the coming Sunday, where this line comes in the price range of $ 30,000. Should the scenario described occur, Bitcoin price could retest this important support before the bull market continues.
Courses of more than $ 50,000 in a few weeks?
After the low point in phase C, Wyckoff's analysis model foresees a significant price increase. At this stage C, there are a few more up and down moves (these could be further in the $ 30,000 – $ 40,000 range on BTC/USD) before the bullish phase D follows.
Phase D is characterized by an explosive price increase that could quickly lead the Bitcoin price back above $ 40,000 and also $ 50,000, according to Wyckoff. If this chart model really arrives, the 2nd half of 2021 could be extremely bullish for the Bitcoin price.
In this case, it may only be a matter of time before Bitcoin pushes back into the price range of the all-time high at $ 65,000. If the bull market continues according to this pattern, other chart analysis models will also become very interesting again.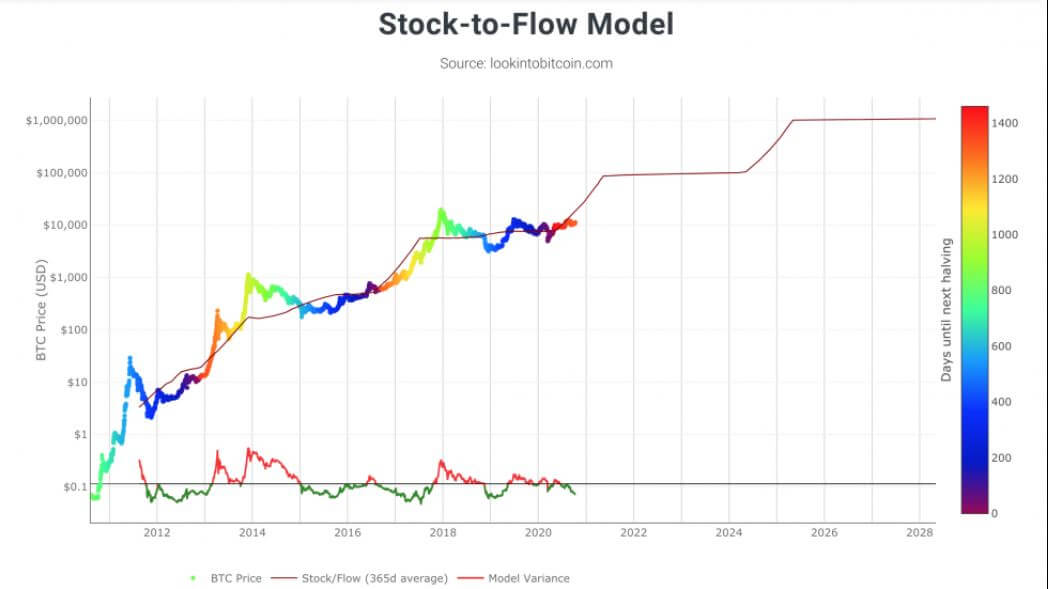 Is history repeating itself and BTC rising above $ 100,000 by year's end?
For example, the analyst Plan B has predicted that the Bitcoin price will rise to at least $ 100,000 this cycle. According to an updated model from him, even prices of almost $ 300,000 could be reached.
The Bitcoin price could thus behave similarly to the bull cycle of 2013. This was also marked by a sharp correction in the middle before the price could continue its rise and even climb significantly above the previous all-time high.
However, investors of Bitcoin should also keep an eye on a bearish scenario. If Bitcoin falls well below $ 30,000, this could be a sign of a longer-lasting bear market. In this case, it would not be expected that BTC/USD will be able to climb back into the spheres of $ 50,000 or $ 60,000 in the coming months.
It remains an exciting time for investors in the crypto market. The next few days promise high voltage-regardless of which scenario will come true for Bitcoin in the end.