Before the start of the current bull cycle, expectations for a price target of BTC/USD diverged widely. On the one hand, there were the rather cautious analysts who have already classified a price of the recently achieved all-time high of $ 65,000 as utopian for Bitcoin. After all, Bitcoin was trading below $ 10,000 just a year ago, and despite the recent correction, it has seen explosive growth in 2020/2021.
Advertising

Thus, with a price of around $ 34,000 at the time of publication, BTC/USD is still trading about 273 percent above last year's level, according to figures from coincodex.com show. Measured at the all-time high, investors of Bitcoin have even recorded a value increase of more than 550 percent within twelve months.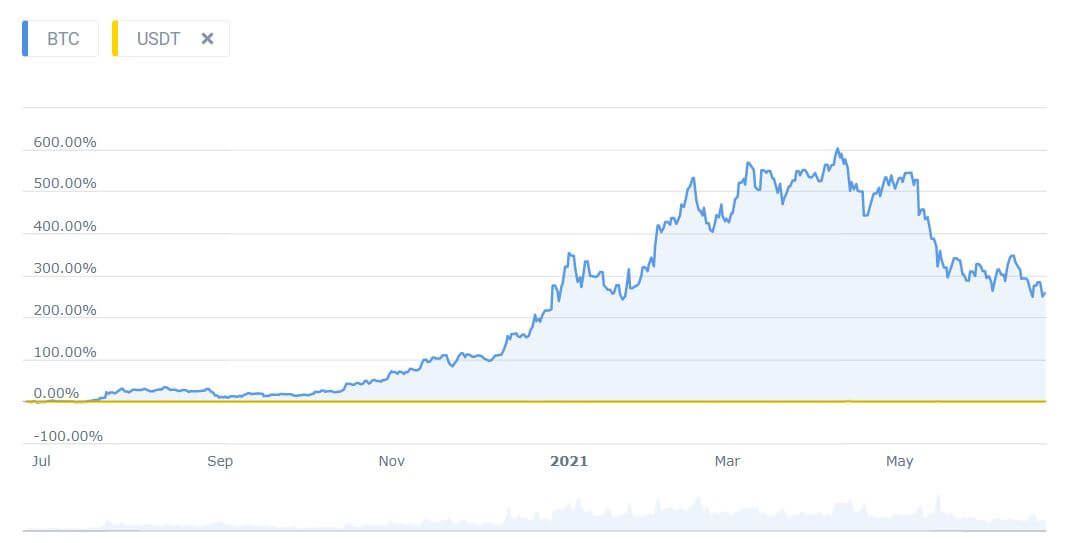 Thus, the Bitcoin has already far exceeded some analyst expectations. Others refer to the current Bitcoin price, which is trading around 50 percent below the all-time high, as a fair market price and do not expect large price increases in the short term. The US bank JP Morgan writes, for example, in a recent note to its customers:
"The Bitcoin market situation continues to deteriorate, indicating continued reluctance of institutional investors. Last month, Bitcoin futures markets experienced their steepest and most sustained liquidation since the Bitcoin surge began last October."
Currently, JP Morgan comes up with a "fair fair value" of $ 35,000 for the Bitcoin in their analysis. This roughly corresponds to the price range in which BTC / USD is currently moving.
Despite the current rather defensive stance on the Bitcoin price, JP is still more likely to be one of the bulls on the crypto market tomorrow in the long term. So, a price of $ 144,000 is considered realistic. However, according to the estimates of the major bank, this mark is likely to be reached only in a longer investment horizon. JP Morgan justifies its investors the price target with a correlation to the price of gold:
"This price of $ 140,000 should be considered a long-term theoretical goal, provided that there is a convergence of Bitcoin volatility to that of gold and an alignment of Bitcoin allocations to that of gold in investor portfolios."
On the other hand, there are other voices from the bullish camp who already expect six-digit prices of $ 100,000 and more this year.
For example, the media company Bloomberg writes in its "Crypto Outlook" for 2021 that it is much more likely that BTC/USD will reach the $ 100,000 mark in 2021 than to fall back to $ 20,000.
Even more bullish is the prospect of the well-known trader and analyst Plan B, who has created a much-quoted forecasting tool for Bitcoin price with his stock-to-flow model. He considers a price of $ 135,000 for December 2021 to be the worst-case scenario, according to a June 20 tweet. That's right: a price of $ 135,000 is, in his view, the bad level that BTC/USD could reach by the end of the year.
Bitcoin is below $34K, triggered by Elon Musk's energy FUD and China's mining crack down.

There is also a more fundamental reason that we see weakness in June, and possibly July. My worst case scenario for 2021 (price/on-chain based): Aug>47K, Sep> 43K, Oct & gt; 63K, Nov & gt;98K, Dec>135K pic.twitter.com/hDONOVgxH1

– PlanB (@100trillionUSD) June 20, 2021
However, according to its forecast model, BTC/USD could reach an "average price" of $ 288,000 in December. At best, he believes that even quotes of $ 450, 000 in 2021 are possible, as he posts in a tweet in response to a few comments. That would be an increase of more than 1,220 percent over the current BTC price.
Wait until you see my base case and best case scenarios! OK, a hint: best case Dec $ 450K 😎

– PlanB (@100trillionUSD) June 20, 2021
With its price targets of $ 100,000 and more by the end of the year, Plan B is not alone. Well-known crypto influencers such as MMCrypto or The Moon give followers hope in their videos and tweets for Bitcoin prices of several hundreds of thousands of dollars.
Set your price alert for $100,000, it will happen within 8 months I believe!

– The Moon 🌙 (@TheMoonCarl) June 25, 2021
In the long run, The Moon even considers Bitcoin prices of $ 1,000,000 "inevitable", due to a huge transfer of assets from dollars to digital currencies, which is justified by inflation and the devaluation of cash.
# Bitcoin to $1,000,000 is inevitable.

– The Moon 🌙 (@TheMoonCarl) June 23, 2021
Believe the influencers, anyone who owns at least one Bitcoin today will sooner or later be a millionaire.
Historical resistance line: BTC / USD maximum at $ 80,000 by the end of 2021?
But are these bullish forecasts really realistic or exaggerated?
If you look at Bitcoin price trends a bit more distantly and soberly evaluate prices using technical analysis, there could be a long way to go for BTC/USD on the way to $ 100,000 and more. A historically significant indicator suggests that the Bitcoin price may not reach six-digit regions until the end of 2022 at the earliest.
What is meant is a historical resistance line that has already formed in the early days of Bitcoin and has never been able to overcome the BTC/USD so far. This long-term resistance can be seen in the form of a curve in the logarhythmic chart of the Brave New Coin Liquid Index for the Bitcoin. Already in April 2021 reported kryptoszene.de right over that resistance line. A short time later, the market collapsed.
In every bull market so far, BTC/USD has tested this resistance and bounced off it. In the following period, there was usually a strong correction and often the bear market was initiated at this point. Since there are a total of four points of contact with this resistance line, its significance cannot be dismissed from the chart technical point of view. The line can not be drawn differently due to the large number of touches and is therefore considered a valid resistance for the Bitcoin price.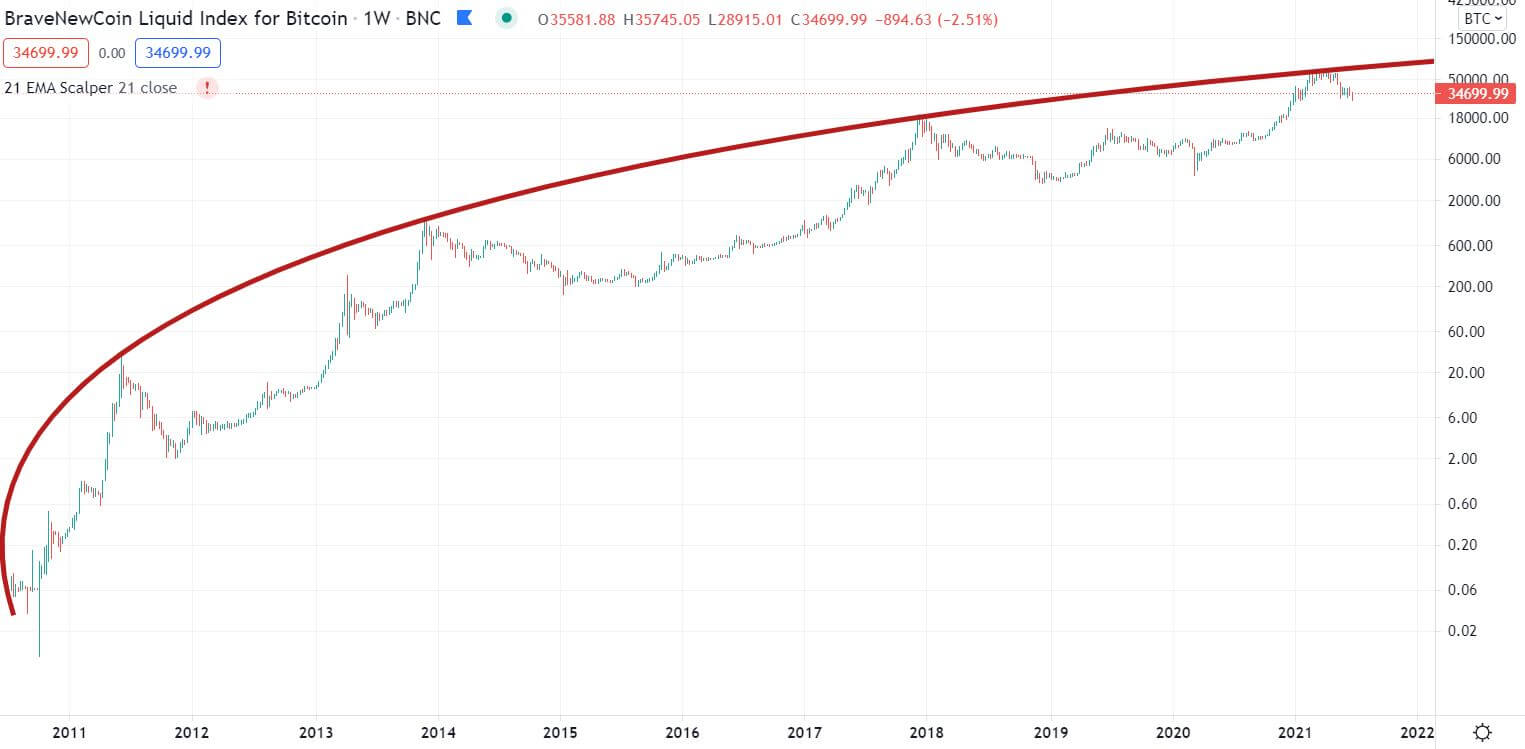 The line was first tested in June 2011. At that time, the Bitcoin price was still in completely different spheres than today. At a mark of just under $ 32, BTC / USD was rejected and corrected to $ 2 by November 2011. A decrease of almost 94 percent!
Also in November 2012, the end of the bull market was reached again with this resistance. From just under $ 1,180, it went down to $ 166. A correction of 86 percent.
Same picture in December 2017. Again, the bull market was at an end at this historical resistance. From around $ 19,800, BTC/USD corrected to below $ 4,000. A decrease of 80 percent.
So far, Bitcoin is also behaving in the 2020/2021 bull cycle just like in its previous history and has once again been rejected at the historical resistance line. From just under $ 65,000, it went down in the top so far to around $ 28,800. Thus, the correction is currently around 56 percent at the peak.
If you compare the cycles with each other, the current correction has so far been relatively small. But whether the Bitcoin price falls even lower or the bulls are already creating a turnaround, has yet to show in the next few weeks.
In any case, this historical resistance line remains the previously insurmountable hurdle for the Bitcoin price. The Brave New Coin Liquid Index shows that BTC/USD could reach a maximum of just under $ 80,000 by the end of the year, unless it manages to crack this decisive resistance.
In addition, it can be seen that this steadily rising resistance line is only approaching the $ 100,000 range in December 2022. If history repeats itself, six-figure prices would be expected at the end of next year at the earliest. However, it should be exciting if BTC / USD can crack the historical resistance.