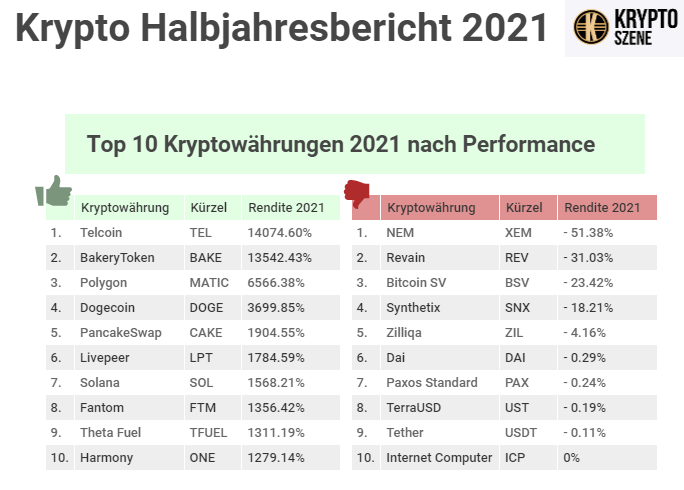 All sorts of negative headlines are currently weighing on crypto prices. A look at the first half of 2021 shows that cryptocurrencies have performed better than many other assets across the board. In a new infographic by Kryptoszene.de it shows that a full 84% of all digital currencies were able to show a positive price trend this year. Only about one in ten tokens developed negatively and about 7% of all cryptocurrencies show only minimal changes in their price compared to the beginning of the year.
Advertising

Telcoin gains 14.000%
The big winners in 2021 were primarily unknown tokens from the second or third row. Especially popular with investors was Telcoin (TEL) with an incredible 14,000% plus annual performance to date. Behind them are BakeryToken (BAKE) with around 13,500% and Polygon (MATIC) with 6,500% in returns. In fourth place, the fun token of Dogecoin is present. Despite heavy losses in the meantime, YTD performance is still around 3700%.
The top five cryptocurrencies by market capitalization show themselves somewhat beaten off in this list, but still with whopping profits. Binance Coin (BNB) has grown by 659% so far in 2021, while Cardano (ADA), currently the fifth largest digital currency, has gained 623%. Ethereum (ETH) was up 171% and the oldest and largest cryptocurrency Bitcoin (BTC) was still drawing a 15% return despite the steep falls of the recent past.
Cryptocurrencies beat the DAX and Gold
However, with all the positive numbers, there were also some losers in the crypto market. NEM (XEM) lost about half of its value due to tough restrictions in China. The relatively unknown cryptocurrency Revain (REV) fell by 31%, while the Bitcoin spin-off Bitcoin SV (BSV) also fell sharply with a loss of about 23%.
All in all, however, only 5 digital tokens posted significant losses in 2021, according to the infographic. Thus, a large part of the virtual currencies beat classic investments such as the DAX (+12%) or gold (-6%). Only oil has shown strong growth so far this year (51%).
Top Brokers for Buying and Trading Cryptocurrencies
Platform
Key features
Rating
Visit Site
1
Paypal accepted
EU regulated
Buy real cryptocurrencies
Crypto assets are highly volatile, unregulated …
eToro Reviews
2

More than 200 tradable financials
Numerous awards
One of the most reputable brokers
Your capital is at risk-other fees may apply …
Libertex Reviews